Hasbro Animes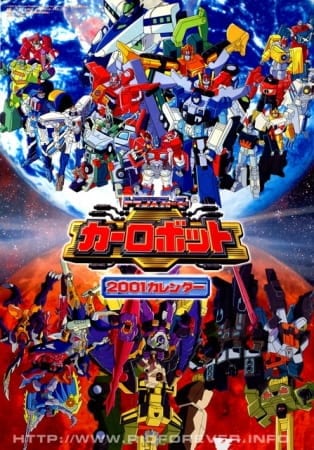 Transformers: Car Robots
The evil Gigatron has led his forces of Destrongers to Earth, where they seek to pillage the planet for its vast energy resources in order to fuel their war against the Autobots. If successful, the Destrongers will finally be able to tip the scale of power in the war to their favor, eliminating the Autobots and moving on to conquer the universe. To this end, the Destrongers kidnap the scientist Dr. Ohnishi, Earth's leading scientist on energy and natural resources. Dr. Oonishi's son, Koji, is contacted by none other than Fire Convoy, who takes the boy on a mission to rescue his father. Although Fire Convoy and the other Autobots fight valiantly, they are unable to rescue the doctor from the Destrongers. Now it is up to the Autobots and Koji to rescue Dr. Oonishi and protect the Earth and its resources from Gigatron and his army.
Rate: PG - Children
Native: トランスフォーマー・カーロボット
Aired: Apr 5, 2000 to Dec 27, 2000
Premiered: spring 2000
Duration: 23 min per ep
Episodes: 39
Score: 6.54
Producer: Nihon Ad Systems, TV Tokyo
Studio: Gallop
Licensor: Disney Platform Distribution, Hasbro, Saban Entertainment
Genre: Adventure, Comedy, Mecha, Sci-Fi, Shounen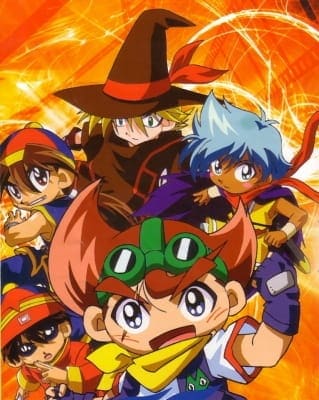 B-Legend! Battle B-Daman
Upon the creation of marble launching machines known as B-Daman, people started to participate in the competitive sport B-DaBattles. However, B-Daman contain hidden powers which enhance marble shooting that can be misused for combative purposes. One night, a certain object residing behind the walls of a restaurant calls upon Yamato Daiwa—a boy raised by cats. Yamato has been having visions of the object which resembles a machine familiar to everyone. Little does he know, hidden behind the walls is not a mere machine, but the fate of the world. [Written by MAL Rewrite]
Rate: PG - Children
Native: B-伝説(ビーレジェンド)! バトルビーダマン
Synonyms: Bedaman, Battle B'Daman
Aired: Jan 5, 2004 to Dec 27, 2004
Premiered: winter 2004
Duration: 22 min per ep
Episodes: 52
Score: 6.28
Producer: d-rights, Heewon Entertainment, TV Tokyo, Yomiko Advertising
Studio: Nippon Animation
Licensor: Hasbro
Genre: Adventure, Fantasy, Kids, Strategy Game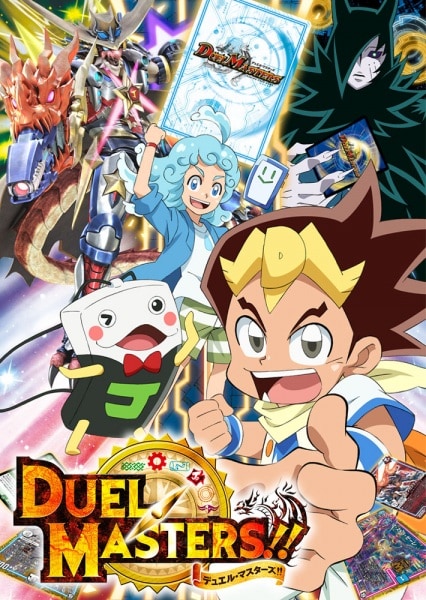 Duel Masters
The world of Duel Masters is one of five great civilizations. Through a card game, duelists can bring these worlds into existence, making what was previously abstract into reality. These skilled duelists are known as Kaijudo masters. Shobu Kirifuda is the best player at his local playground, and seeks to become a world-class master like his father. His first step on the road to conquest begins with winning a local tournament. Rather, it should have, except he is destroyed by the best Kaijudo master in the world, Knight. Shobu loses, but upon remembering the words of wisdom his father instilled into him, decides to continue on the road of becoming a duelist who can enjoy the game for what it is. And so begins his journey to victory-and as we all know, the journey is the most important part!
Rate: G - All Ages
Native: デュエル・マスターズ! !
Aired: Apr 7, 2019 to Mar 29, 2020
Premiered: spring 2019
Duration: 24 min per ep
Episodes: 51
Score: 5.63
Producer: Shogakukan, Shueisha, TV Tokyo
Studio: Brain's Base, Shogakukan Music & Digital Entertainment
Licensor: Hasbro
Genre: Action, Adventure, Comedy, Fantasy, Kids