Hawkeye Animes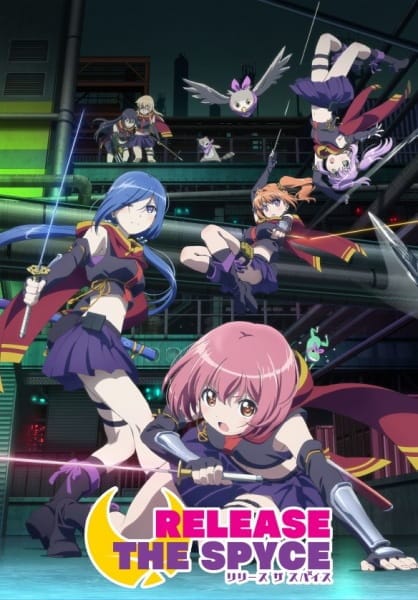 Release the Spyce
Momo Minamoto is a shy teenager who simply wants to do good in the world. Her dream is to follow in her police officer father's footsteps and support law and order. And just like him, she has a very unique ability: her senses are much more refined than those of any average person. A simple lick will enable her to determine what someone is feeling. One night, as she admires the landscape, Momo sees suspicious shades moving in the distance. After learning that those shades were spies, she is recruited by their captain Yuki Hanzoumon, a senior at her school. The members of their secret agency, called the Tsukikage, also have the power to gain strength after ingesting spices. Release the Spyce is an action-packed spy series about the Tsukikage's missions as they fight in the shadows to protect the city from crime while keeping up with their high school life.
Hashtags: Release the Spyce
Rate: PG-13 - Teens 13 or older
Native: Release the Spyce, RELEASE THE SPYCE
Aired: Oct 7, 2018 to Dec 23, 2018
Premiered: fall 2018
Duration: 24 min per ep
Episodes: 12
Score: 6.94
Producer: Good Smile Company, Half H.P Studio, Hawkeye, Kadokawa, KlockWorx, Legs, Mainichi Broadcasting System, Pony Canyon, Tablier Communications
Studio: Lay-duce
Licensor: Sentai Filmworks
Genre: Action, School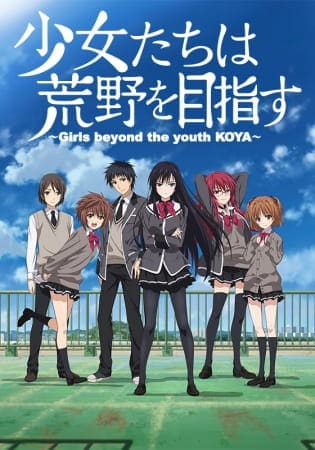 Shoujo-tachi wa Kouya wo Mezasu
Shoujo-tachi wa Kouya wo Mezasu is a series all about finding oneself and a direction in life… no matter how far off the beaten path it might be. Buntarou Hojo is a high school student who has a talent for writing, but no real direction in life or any plans for the future. His classmate, Sayuki Kuroda notices his talent, decides to help him find a way to use it properly by enlisting him in her bishoujo game development group. When Buntarou is cornered in the men's bathroom at school by Sayuki, he is surprised when he is asked out on what he thinks is a date, and even further surprised when he finds out that it's not a date, but a job interview. Reluctantly agreeing, the two start recruiting other members for their team but will they learn more about game creation, or life itself along the way?
Rate: PG-13 - Teens 13 or older
Native: 少女たちは荒野を目指す
Synonyms: The girls who aim for the wildlands, Girls beyond the youth KOYA, Shokomeza
Aired: Jan 7, 2016 to Mar 24, 2016
Premiered: winter 2016
Duration: 24 min per ep
Episodes: 12
Score: 6.31
Producer: ASCII Media Works, Barnum Studio, Cospa, Hawkeye, KlockWorx, Lantis, Magic Capsule, Sotsu, Warner Bros. Japan
Studio: Project No.9
Licensor: Sentai Filmworks
Genre: School