Shinshokan Animes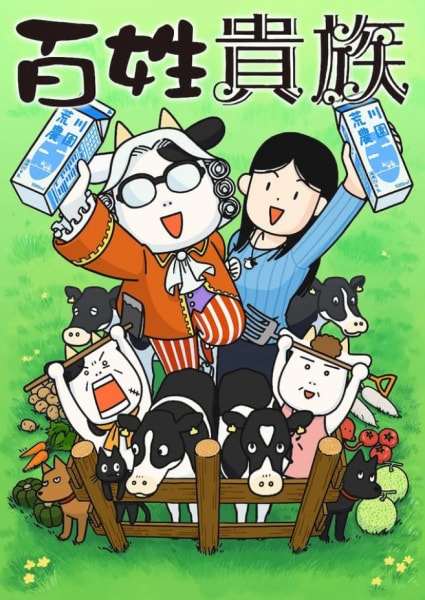 Hyakushou Kizoku
Before becoming a manga artist, Hiromu Arakawa spent seven years working as a farmer in Hokkaido. Well acquainted with the many emotions that are part and parcel of agricultural work, she captures the harsh realities of Japanese dairy farming while also shedding light on this tough and powerful way of life in a series of sidesplitting episodes. Known for numerous works in which she celebrates the joys of life, in this essay-style comic Arakawa reveals her own roots and little-known truths about farming life.
(Source: Japan Media Art Festival, edited)
Rate: PG-13 - Teens 13 or older
Native: Hyakushou Kizoku, Noble Farmer, 百姓貴族
Synonyms: Noble Farmer
Aired: Jul 7, 2023 to ?
Premiered: summer 2023
Duration: 5 min per ep
Episodes: 12
Score: 6.25
Producer: BS Asahi, MAGES., Precious Tone, Shinshokan, Tokyo MX
Studio: Pie in the sky
Genre: Comedy, Shoujo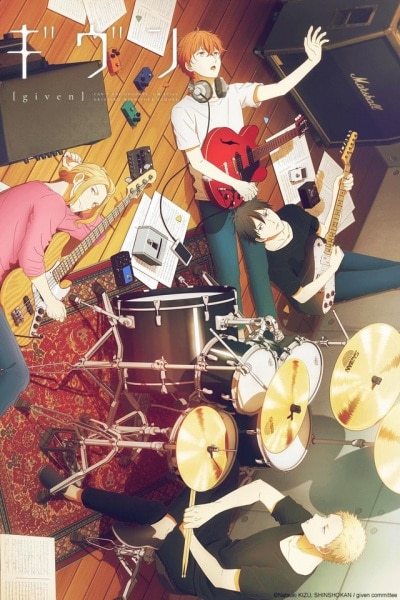 Given
Tightly clutching his Gibson guitar, Mafuyu Satou steps out of his dark apartment to begin another day of his high school life. While taking a nap in a quiet spot on the gymnasium staircase, he has a chance encounter with fellow student Ritsuka Uenoyama, who berates him for letting his guitar's strings rust and break. Noticing Uenoyama's knowledge of the instrument, Satou pleads for him to fix it and to teach him how to play. Uenoyama eventually agrees and invites him to sit in on a jam session with his two band mates: bassist Haruki Nakayama and drummer Akihiko Kaji. Satou's voice is strikingly beautiful, filling Uenoyama with the determination to make Satou the lead singer of the band. Though reticent at first, Satou takes the offer after an emotional meeting with an old friend. With the support of his new friends, Satou must not only learn how to play guitar, but also come to terms with the mysterious circumstances that led him to be its owner. [Written by MAL Rewrite]
Hashtags: Given, ギヴン
Rate: PG-13 - Teens 13 or older
Native: Given, ギヴン
Aired: Jul 12, 2019 to Sep 20, 2019
Premiered: summer 2019
Duration: 22 min per ep
Episodes: 11
Score: 8.34
Producer: Aniplex, Dentsu, Fuji TV, Movic, Shinshokan
Studio: Lerche
Genre: Boys Love, Drama, Music, Romance, School, Slice of Life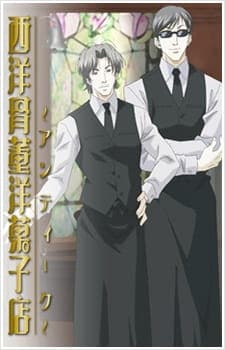 Seiyou Kottou Yougashiten: Antique
A high school crush, a world-class pastry chef, a former middle-weight boxing champion… and a whole lot of cake! Ono has come a long way since the agonizing day in high school when he confessed his love to handsome Tachibana. Now, some 14 years later Ono, a world-class pastry chef and gay playboy has it all. No man can resist Ono's charms (or his cooking skills!) but he has just found a new position under a man named Tachibana. Can this be the only man who resisted his charms, and if so, will the man who once snubbed the "magically gay" Ono get his just deserts? And how in the heck did a former middleweight boxing champion wind up as Ono's cake boy? (Source: DMP)
Rate: PG-13 - Teens 13 or older
Native: 西洋骨董洋菓子店 ~アンティーク~
Aired: Jul 4, 2008 to Sep 19, 2008
Premiered: summer 2008
Duration: 22 min per ep
Episodes: 12
Score: 7.02
Producer: Asmik Ace, Dentsu, Fuji TV, Shinshokan, Sony Music Entertainment
Studio: Nippon Animation, Shirogumi, SynergySP
Licensor: Nozomi Entertainment
Genre: Boys Love, Comedy, Gourmet, Shoujo